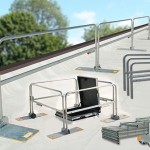 When employees are required to do maintenance on the  heating and cooling equipment located on the roof they must be protected from falls. The solution must comply with OSHA (Standards-29CFR) 1910.23 and 1926.502.   The simplest way to do this is with a roof guard rail system that is easy to install, requiring no tools and does not damage the roof.  Roof Zone has developed a product, the RZ Guardrail System, that meets these requirements.  Made in the USA,  it's the quickest and easiest guardrail system to install and remove, requiring no tools, no permanent installation, and galvanized to eliminate rust issues.
The guardrail base mount is hot-dipped galvanized with protective protective vinyl pads attached to protect roof.  The base holds two rails and comes with easy grip openings on each for one or two persons to carry.  Optional toe board brackets are available. The galvanized guard rail are available in 6 ft., 8 ft. and 10 ft. length.  For roof hatch or skylight applications, a swing gate guardrail is available.
For applications where it is required to maintain sight lines while offering fall protection an optional collapsible guardrail bracket is available so the guard rail system can be laid down on the roof to maintain architectural integrity.
Please visit our website for more info or call us at 800-776-3595 for more information.