I would like to invite you to our annual open house May 14th, 2015.  We will again feature our pig roast for lunch.  All our equipment will have an additional 10% off that day.  We will have factory reps doing demos on their equipment.  We will be featuring a couple of new items.
The first is the redesigned shingle hoist from Tranzsporter.  It features a new platform, the 200lb model hoist features a 25% increase in lifting capacity, up to 250 lbs(TP250). The new collapsible carriage comes with cam followers for better tracking and handling. Carriage also features an aluminum deck and flap for lighter weight and longer life. A rolled goods/plywood bracket comes with unit and pins into carriage.  For heavier roofing materials, the 400 lb. platform hoist features a  lighter weight carriage and revised track system. The TP400 carriage has a 30% reduction in weight over previous models. The aluminum deck and flap provide longer life and lighter weight.  This carriage also features a re-engineered and simplified cam follower system with less wear parts than other hoists. Rolled goods/plywood brackets comes included and pins into carriage.  Tranzsporter has also developed a new roof guard rail system.  It's the quickest and easiest guardrail system to install, tear down and no tools required. Galvanized for the same price or less than competitor's painted steel guardrails.
We will also be demonstrating the Reechcraft powermast system.   The PowerMast is great for mid to high access needs, offering unmatched portability and simplicity for a wide variety of wall access needs, up to 200+ feet. The tools-free mast assembly is not only easy to put together and connect, it is so compact a 65 ft. twin system can fit in the back of your truck or van!  We will have a unit set up at the show.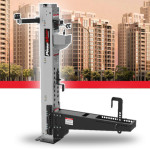 We will also be demonstrating the Powerlift.   The PowerLift is a triple threat: convenient, secure and easy to use. It provides additional security and safety, while still helping you gain access to difficult-to-reach indoor and outdoor spaces. One person can easily move and operate this equipment up stairs or inclines – it's the lightest low-level lift on the market.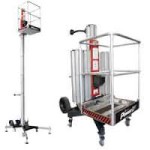 Knaack reps. will also be demonstrating the new model 118-M Data Vault.  A step above the traditional jobsite protection device, KNAACK® DataVault™ mobile provides a highly mobile jobsite connectivity solution, empowering productivity and digital collaboration. KNAACK® DataVault™ arrives on the job ready for use, and is supported with a nationwide manufacture certified support network to bring agile solutions to customers.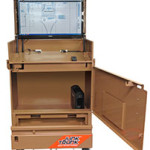 We will also have our free ladder safety and fall protection classes again this year.  The class times are as follows:
10:00 and 2:00- Ladder Safety      11:00 and 1:00  Fall protection
Please contact chuck@birdladder.com to reserve a spot.  The fall protection classes are limited to the first 20 registered.