About Us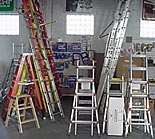 Bird Ladder Co was established in 1929 as a manufacturer of wood planks and ladders in Chicago Illinois. Charles Carlson purchased the business in 1954 and continued to manufacture wood products at our Chicago location until 1970. The rising costs of raw materials and liability insurance forced us to switch from manufacturing to distribution.
We chose to distribute Werner Ladders, who at the time, manufactured ladders nearby. In 1993 we were recognized by Werner ladder as a member of their 100 mile club, which is selling 528,000 feet of climbing products. Presently we are in the top 2% of Werners' Industrial distributors.
In 1975 we expanded from Illinois to Wisconsin, and presently have three branches in Oshkosh, Milwaukee, and Chicago.
In 2000 we created the "Lifetime Ladder Program". There are three components to this program. The first is Safety Training, this is essential for anyone working with ladders. The second component is Ladder Inspection, we inspect all climbing equipment, identifying ladders in need or repair or destruction. The third component is the Ladder. We supply 375lb 1AA ladders that are custom made for us. This ladder is fully braced on both front steps and rear horizontal to provide additional stability and strength. Ladders purchased under this program will be repaired free of charge for the life of the ladder.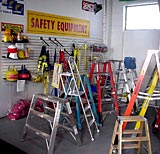 Our experience in manufacturing has enabled us to be the North Central U.S. Authorized Repair Center for Werner Ladder. We are the only repair facility in the Midwest.
Over the last 54 years our product lines have grown significantly from ladders. Currently we provide products and services to ranging from abrasives to wall jacks. Please see our index for a complete list both by vendor and by product type.
We take great pride in our customer service and product knowledge. Bird Ladder & Equipment is your one stop shop for all of your needs. We will be able to answer any questions you may have, and can help you find what you are looking for.
Bird Ladder is still family owned and operated, and is proud to support 10 employees' families. Charles Carlson (1929-2004) felt this was important when he ran this business, and we believe it is important today.