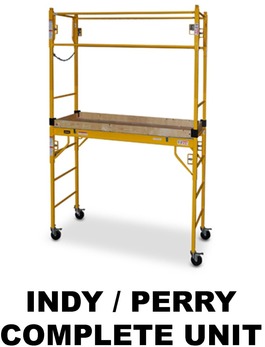 At Bird Ladder, we realize steel scaffolding is of the utmost importance for the construction of new buildings. Since construction remains a crucial industry, safe scaffolding plays an indirect but important role in bolstering the economy
Safety engineering for steel scaffolding is a unique field in and of itself. Experts in this field take precautions to ensure that construction workers can use scaffolding without facing undue risk. Fortunately, engineers have developed a number of proven methods for making steel scaffolding safe and secure. OSHA has outlined quite a few rules for reasonably safe scaffolding. However, it is up to scaffold designers to elaborate on these guidelines through personal experience. Although scaffold engineering is a fairly deep and complex subject, the basics of safe scaffolding are relatively simple and easy to understand.
Safeguarding against falls is one of the most important tasks for any scaffold engineer. Legally, guardrails or fall arrest systems must protect any construction worker placed more than ten feet above a lower level. In particularly precarious work situations, each worker must enjoy the benefit of a personal fall protection system.
As a general rule, engineers must design each scaffold to support four times the maximal load it is intended to bear, not counting the weight of the scaffold itself. For larger and more complex scaffolding systems, a trained engineer is required to certify the load capabilities at various points.
The most important step for designing safe scaffolding is securing the services of an experienced engineer. However, it is almost as important to use high-quality scaffold components. Besides meeting governmental requirements, all scaffold components should meet voluntary industry requirements. After all, any scaffolding accident can cause enormous difficulties workers and employers alike.
Excepting the smallest scaffolds, no scaffold is "one size fits all." Engineering a scaffold for safety requires sensitivity to the individual circumstances at hand. In designing safe, customized scaffolds, engineers will consider these factors: the experience level of the personnel who will use the scaffold, the length of the project and the type of tasks to be performed.
In the long run, engineering for safety can save contractors a lot. Skimping on safety considerations can only lead to the most transient, insubstantial savings. Scaffold accidents inevitably lead to workman's comp claims, downtime and bad publicity in the community. Here at Bird Ladder, we are proud to provide the accessories and components to make every steel scaffold a safe scaffold.