ACRO 12090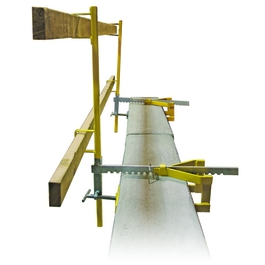 Specifications:

•Assembles Quickly from inside of parapet.
•Parapet bracket weighs 19 lbs. Capacity: 8' on center.
•Guardrail post is always on inner side of parapet wall to meet OSHA height regulations throughout its use.
•Individual units can be moved without complete disassembly of units and guardrail posts.
•Adjusts to wall width 4" to 24" with a 3" adjustment screw.
•Powder Coated Safety Yellow.
•Complies with OSHA Standards.
•Made in America.

Includes: Post & Parapet Clamp
Price: $147.00