KNAACK 139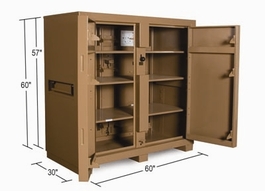 •Model 139 JOBMASTER® Cabinet

•Dimensions: H:60 W: 30 L: 60
•Weight (lbs.): 445
•Cubic feet: 59.4

•Top Shelf 14
•Second Shelf 10
•Bottom Shelf Adjustable

•WATCHMAN® IV Lock System
The only jobsite storage cabinet offering the strongest deadbolt style locking mechanism for ultimate security.

•Convenient Foot Latch - One push with your foot and the doors will pop open.


Item Description: Storage Cabinet
Size: H x W x L: 60" x 30" x 60"
Price: $2,574.00
types of KNAACK - Job Site Storage Boxes