Van Mark MM1050 Aluminum Siding Brake ••FREE COMMERCIAL SHIPPING••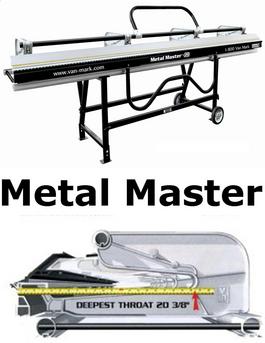 Metal Master™ 20 Bending Capacity Recommended:

•Aluminum: .032
•Galv. Steel: 26 ga.
•Painted Steel Grade D: 26 ga.
•Copper: 24 oz.
•Zinc Alloy: .032
•Stainless Steel: 26 ga.
•Note: The above capacities are based on standard metal properties.
______________________________________________

•Deepest throat available for working with wider materials 20-3/8" deep.
•Computer engineered castings for unmatched strength.
•New reinforced top locking bar for superior bending and hemming.
•Increased bending radius makes 180 degree hem bending easier.
•Unique Cam-Lock system for longest service life and least maintenance needed.
•Ergonomic heavy-duty bending handles for improved leverage.
•Brake accommodates Trim Cutter, Quick Score, Trim Former, Coil Dispenser, and the Uni-Stand USA-2.
__________________________________________________

••FREIGHT TERMS FOR FREE COMMERCIAL SHIPPING ON ALL VAN MARK SIDING BRAKES:••

1. Free Shipping applies to a Commercial Delivery Address w/ Semi Truck Access (Loading Dock or Fork Lift Access).
2. This also includes Customer Pick-Up at the Common Carriers Trucking Terminal.
3. For Residential Delivery Address there will be a extra charge based on location.
4. A daytime telephone number must be supplied for all orders shipping Common Carrier.


Series: Metal Master™ 20
Length: 10'-6"
Throat Depth: 20-3/8"
Number Of Cam-Locks: 4
Price: $1,623.00
types of Siding Brakes & Accessories